Build a better steel experience
We are your nationwide resource for the broadest range of custom-engineered structural steel building systems. Bring us in early on your project to achieve the architectural vision, while holding the line on structural execution and related project costs. New Millennium is a division of Steel Dynamics, one of the largest steel producers in America. We offer leading BIM-based joist and deck design, backed by dynamic manufacturing and availability.
Escape the limitations of traditional steel joist and deck supply. Expect more: One resource for nationwide engineering, BIM design, manufacturing, and steel building systems supply. Together, let's answer the growing demand for advancements in aesthetic design, functional spaces, positive environmental outcomes, and overall project cost containment.
Building Systems Overview
Building Systems Overview
See how you can optimize your building design and construction with an array of steel building systems
Multi-story means multiple choices
Learn how to choose the right long-span composite system for your application. See the key features of three distinct systems and the span-to-depth ratios they provide.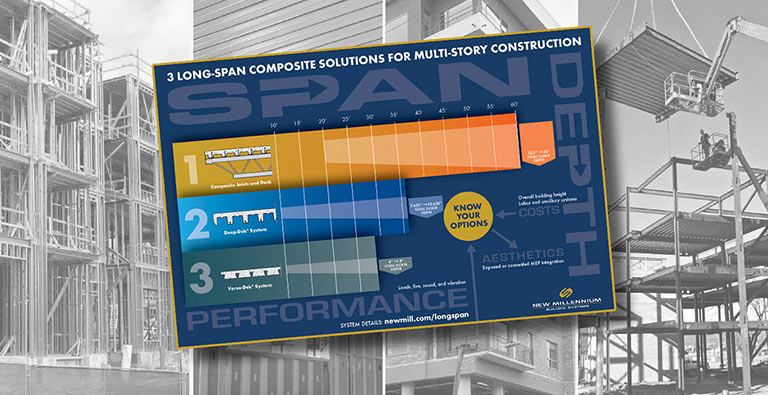 Then explore the range of performance factors, aesthetics, and cost benefits they can deliver to your next multi-story project.